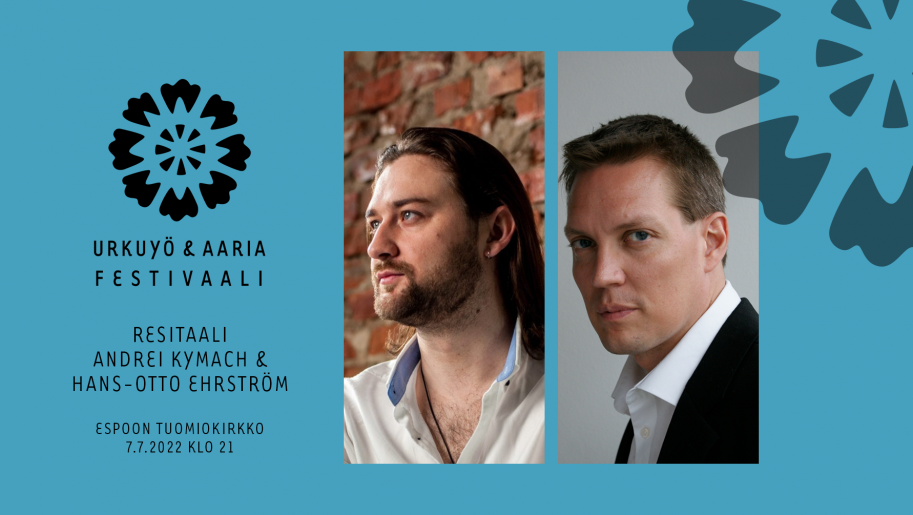 30.06.2022
Urkuyö jaAaria -festivaali: Ukrainalaisen baritoni Andrei Kymachin resitaalissa soivat koskettavat ukrainalaiset sävelmät
Ukrainalainen baritoni Andrei Kymach esiintyy Urkuyö ja Aaria -festivaalilla yhdessä pianisti Hans-Otto Ehrströmin kanssa torstaina 7.7.2022 Espoon tuomiokirkossa. Konserttiohjelma koostuu sarjasta ukrainalaisia sävelmiä, jotka pohjautuvat mm. ukrainalaisen runoilijan ja kansallisen liikkeen vaikuttajan Taras Shevchenkon (1814–1861) runoihin.
Lue lisää konsertista: Resitaali Andrei Kymach – Hans Otto Ehrström 7.7.2022 
Andrei Kymach on vuoden 2019 Cardiffin BBC Singer of the world -laulukilpailun voittaja. The Guardian -lehti arvioi, että Kymachin esiintymisen aristokraattinen läsnäolo sekä hänen musiikillisen ja dramaattisen luonnehdinnan eheys tekivät suuren vaikutuksen kilpailussa. Kymach tekee upeaa nousua oopperalaulajana maailmalla. Saman kilpailun ovat suomalaisista oopperalaulajista voittaneet Karita Mattila (1983) ja Tommi Hakala (2003).
Hans-Otto Ehrström on monipuolinen ja arvostettu pianisti niin lied- kuin oopperarepertuaarin parissa. Hän on tehnyt yhteistyötä lukuisten suomalaisten ja ulkomaisten huippulaulajien kanssa niin kotimaassa kuin useissa Euroopan maissa. Ehrström on myös pitänyt useita oopperamestarikursseja Suomessa ja maailmalla ja on arvostettu oopperakorrepetiittori.
Urkuyö ja Aaria -festivaalin lisäksi Kymachin voi nähdä Suomessa tänä kesänä Savonlinnan oopperajuhlilla Carmenin Escamillon roolissa 5.7., 14.7. ja 19.7.
Konserttiin on vapaa pääsy Ukrainan kansalaisille.
www.urkuyofestival.fi
www.lippu.fi/artist/urkuyo-aaria/
Festivaalin sivuille