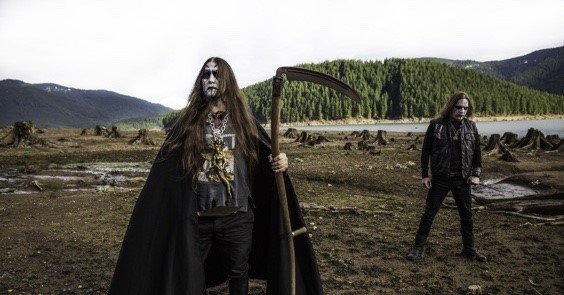 06.09.2016
Tuskalive: Inquisition Suomeen marraskuussa
Harvemmin black metalia vedetään duona, mutta kun sitä vedetään duona à la Inquisition niin kyllähän jytisee!
Alunperin Kolumbiasta startannut, sittemmin Yhdysvaltoihin muuttanut Inquisition julkaisi juuri äskettäin uransa seitsemännen levyn. Huikeasti nimetyn "Bloodshed Across the Empyrean Altar Beyond Celestial Zenith" -albumin takana on laadun takeena tunnettu Season Of Mist -levy-yhtiö.
Inquisition tunnetaan tunnelmaltaan hyvin eeppisistä keikoista ja sitähän edesauttaa hyvinkin jylhät sanoitukset. On mesopotemialaisia myyttejä ja jumalhahmoja.
Lämppärinä keikoilla nähdään kotimainen, juuri uuden "Vuohen Siunaus"-albumin julkaissut Korgonthurus.
Keikat ovat osa ympärivuotista TuskaLive -konserttisarjaa. Yhteistyössä Kaaoszine.
Inquisition & Korgonthurus -konsertit:
Pe 18.11.2016 Nosturi, Helsinki
Ovet 19:00
Ikäraja -S-/K18
Liput alkaen 24,50€ (sis palvelumaksun)
Ennakkomyynti Ticketmaster.fi
La 19.11.2016 Klubi, Tampere
Ovet klo 18:00, ensimmäinen bändi 19:00.
Ikäraja K18
Liput ennakkoon alkaen 24,60€ (sis palvelumaksun)
Ennakkomyynti Tiketti