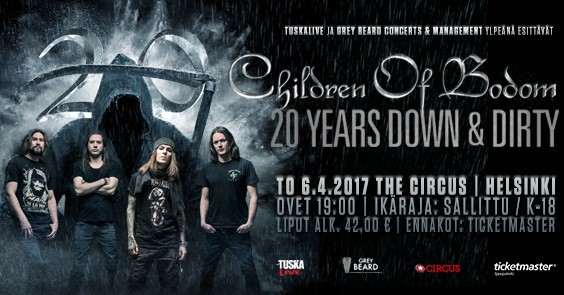 20.12.2016
Tuskalive – Children of Bodom The Circukseen juhlistamaan debyyttialbumiaan
Children Of Bodomin ilmiömäinen "Something Wild"-debyyttialbumi täyttää 20 vuotta. Niin se aika rientää. Bodomin pojat lähtevät tien päälle juhlistamaan kaksikymmenvuotista uraansa tykittämällä settilistan täydeltä tajunnanräjäyttäviä bodomiitti-klassikoita. Ensin kierretään Eurooppa ja sitten homma tuodaan Helsinkiin ja The Circukseen. Tätä ei kannata todellakaan missata.
Children Of Bodom – 20 years Down & Dirty – konsertti
To 6.4.2017, The Circus, Helsinki
Ovet 19:00
Ikäraja: Sallittu / K-18
Liput alkaen 42,00 €
Ennakot: Ticketmaster
Lipunmyynti alkaa ke 21.12.2016.
Yhteistyössä Grey Beard Concerts & Management ja TuskaLive.
http://www.cobhc.com
tuska.fi/tuskalive
http://greybeard.fi/