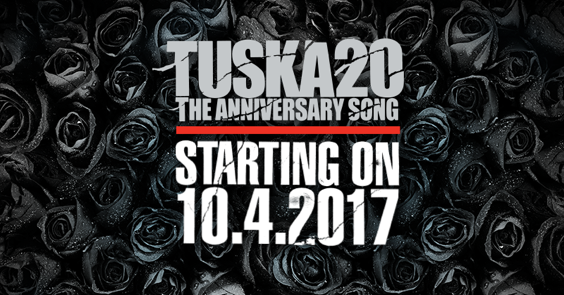 03.04.2017
Tuska20 – The Anniversary Song
Hyväntekeväisyyskampanja aukeaa maanantaina 10. huhtikuuta
Kaksikymmentä vuotta täyttävä Tuska Open Air Metal Festival saa oman nimikkokappaleensa. Tuska20 – The Anniversary Song on huikea yli seitsemän minuutin mittainen ilotulitus.
Tekijöinä suomalaisen metallin huippunimet: Esa Holopainen (Amorphis, teoksen säveltäjä), Nino Laurenne (Thunderstone, Sonic Pump Studio), Jaska Raatikainen, Alexi Laiho, Daniel Freyberg (Children of Bodom), Gas Lipstick (EX- HIM / Hallatar), Tomi Joutsen (Amorphis), Kai Hahto (Wintersun, Nightwish), Marko Annala & Tuomo Saikkonen (Mokoma), Lordi, Timo Kotipelto (Stratovarius), Pasi Rantanen (Thunderstone), Antti Hyyrynen (Stam1na), Samy Elbanna (Lost Society), Ville Sorvali (Moonsorrow), Netta Skog (Ensiferum), Mikko Karmila (Finnvox Studiot), Mika Jussila (Finnvox Studiot). Erikoisvieraana mainittakoon tässä vaiheessa Tuskan ystävänäkin tunnettu Akira Takasaki (Loudness, Japani).
Lisää biisissä esiintyviä artisteja ja tekijöitä paljastetaan tuonnempana.
Biisistä on saatu viitteitä jo parin kuukauden ajan idean isän ja Tuskan promoottorin Jouni Markkasen Facebook-päivityksistä, joita voi tutkia näin jälkikäteenkin somesta hashtagilla #tuskasong.
"Teoksesta kertyvät tulot kerätään Elmu säätiön sateenvarjon alle perustettuun Tuska 20v -juhlarahastoon ja lahjoitetaan hyväntekeväisyyteen. Kohteista tulee päättämään advisory board, johon kuuluu muusikoita, alan vaikuttajia sekä Tuskaan historiallisesti liittyviä hahmoja", Markkanen kertoo.
Tuska 20 – The anniversary song on ollut myös tekijöilleen hieno kokemus – ja jännä sellainen, kuten Children Of Bodomin rumpali Jaska Raatikainen asian muotoili:
"Tää on salaisempi projekti kuin Pohjois-Korea. Edes muusikot ei tiedä mitä tapahtuu…"
Kampanja toteutetaan yhteistyössä FundYou-joukkorahoituksen kanssa ja se aukeaa maanantaina 10. huhtikuuta osoitteessa: fundyou.io
Biisin pääsee ennakkokuulemaan Radio Rockilta & Metrolta maanantaina 03.04.2017.
Tuska Open Air Metla Festival järjestetään 30.6.-2.7.2017.