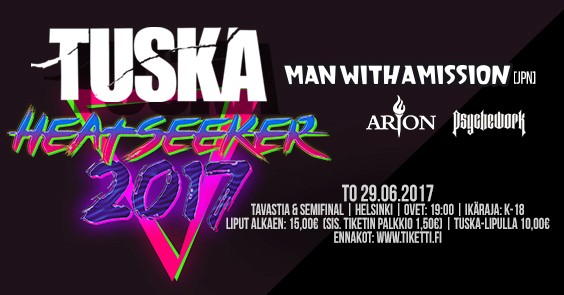 05.05.2017
Tuska Heatseeker 2017 – Man With A Mission ja muita
– Tavastia ja Semifinal torstaina 29.6.
Tuskan ennakkoklubina toimiva Tuska Heatseeker esittelee jälleen kuuminta saantia raskaan musiikin moninaisesta rajapinnasta. Tänä vuonna rokki soi Tavastian lisäksi myös alakerran Semifinalissa.
Ulkomaan vahvistuksena tämä kesän lämpöohjuksessa nähdään viime kesänä Tuskassa vakuuttanut japanilainen, modernisti ja moni-ilmeisesti soiva Man With A Mission. Kotimaassaan suurta suosiota nauttiva Man With A Mission julkaisi alkuvuodesta heleän "Dead End In Tokyo"-sinkun.
Modernia voimametallia tahkoava Arion valmistelee parhaillaan kakkosalbumiaan ja Tavastialla uuteen materiaaliin pääsee tutustumaan tositoimissa. Meinaa toimia!
Antony Parviaisen ja J-V Hintikan Psychework lukeutuu selkeästi maamme uusiin metallitoivoihin. "The Dragon's Year"-debyyttialbumi on vahva esitys bändiltä, joka tietää mitä tekee.
Lisää Tuska Heatseeker -artisteja julkaistaan lähiaikoina.
TUSKA HEATSEEKER 2017
Man With A Mission (JPN)
Arion, Psychework
Tapahtumaan lisätään vielä artisteja
To 29.06.2017, Tavastia & Semifinal, Helsinki
Ovet: 19:00 | Ikäraja: K-18
Liput alkaen: 15,00€ (sis. Tiketin palkkio 1,50€), Tuska-lipulla 10,00€
Ennakot: www.tiketti.fi
Ennakkomyynti alkaa ma 8.5. klo 9.00
tuska.fi
Tuska Open Air Metal Festival järjestetään 30.6.-2.7.2017.