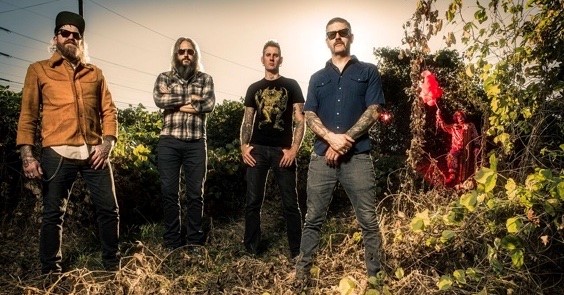 02.02.2017
Tuska 2017 – Mastodon Tuska-sunnuntain pääesiintyjäksi
Maaliskuussa uuden "Emperor Of Sand"-albumin julkaiseva amerikkalaisnelikko Mastodon on kiinnitetty Tuskan 20-vuotiskinkereiden sunnuntain pääesiintyjäksi.
Atlantasta tuleva Mastodon on todellakin nimensä mukainen jättiläinen; kummajainen, jota omintakeinen, progressiivisen polveileva soundi ja huippuunsa viritetty soittotaito vievät poluille, joilla ei muita kulkijoita näy. Vaikka edellisillä "Hunter" ja "Once More Around The Sun"-levyillään Mastodon otti askeleen suorempaan ja helpommin lähestyttävään ilmaisuun, ovat niiden kappaleet silti täynnä mestarillisesti sovitettuja koukkuja ja nyansseja, joilla Mastodon soittaa koukeroita kuuntelijan ympärille.
Uuden "Emperor Of Sand"-albumin ensimmäinen sinkku "Sultan's Curse" antaa osviittaa aikaisemman aikakauden ja harhailevamman Mastodonin paluusta. Niin tai näin, albumi tulee eittämättä olemaan yksi vuoden tapauksista raskaan musiikin saralla.
Tällä hetkellä vahvistuneet Tuska 2017 artistit:
Pe 30.6.
Suicidal Tendencies, Mayhem, Wintersun, Insomnium, Brujeria, Anneke Van Giersbegen's Vuur, Barathrum, Baptism, Trap Them, Kohti Tuhoa, Ratface
La 1.7.
HIM, Amorphis, Mokoma, Electric Wizard, Avatarium
Su 2.7.
Mastodon, Apocalyptica plays Metallica by four cellos, Sonata Arctica, Dirkschneider, Baroness, Battle Beast, Oranssi Pazuzu
Tuska-liput myy Tiketti, Ticketmaster ja Lippu.fi.
Yhteistyössä: Radio Rock, Inferno, Imperiumi, Alepa, Turun Sinappia
LISÄTIEDOT:
tuska.fi
facebook.com/TuskaOpenAir
twitter.com/tuskafestival
instagram.com/tuskafestival
#tuska2017
#metalsummer2017
#tuska20th
#tuskafestival
#tuskalive
Tuska Suvilahdessa 30.6.-2.7.2017