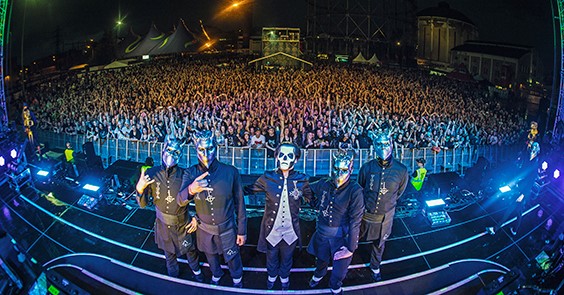 04.07.2016
Tuska 2016 – lauantai loppuunmyyty
Tuska 2016 lauantai myytiin loppuun. Aurinko ja bändit hellivät Suvilahtea ja metallikansaa myös festivaalin toisena päivänä.
Brymir polkaisi päivän topakasti käyntiin päälavalta ja festarin raskaimpaan antiin lukeutuva With the Dead otti telttalavan haltuun. Illan odotetuimpiin kuulunut Anthrax ei pettänyt yleisöään tälläkään kertaa. Stam1na suorastaan räjäytti täyteen pakatun telttalavan. Lauantai-illan kruunasi Grammy-voittaja Ghost massiivisella parituntisella spektaakkelillaan. Ghost toi mukanaan asiaankuuluvan näyttävän ukonilman, joka pyyhkäisi alueen yli bändin esiintyessä.
Solmusalissa Scott Ian keräsi täyden salin ihmisiä kuuntelemaan mitä thrashmetal-legendalla oli sanottavana ja Swallow the Sun soitti eksklusiivisen akustisen settinsä sadalle ennakkoon arvotulle fanille.
"Upeaa nähdä kuinka metalli tekee uutta nousuaan – vanhan koulun bändit tukevana kivijalkana ja Ghostin kaltainen hiottu timantti keihään kärkenä", kommentoi festivaalijohtaja Eeka Mäkynen.
Lauantai keräsi Suvilahteen yhteensä 11 000 raskaan musiikin ystävää.
Tuskan portit aukeavat sunnuntaina kello 14.