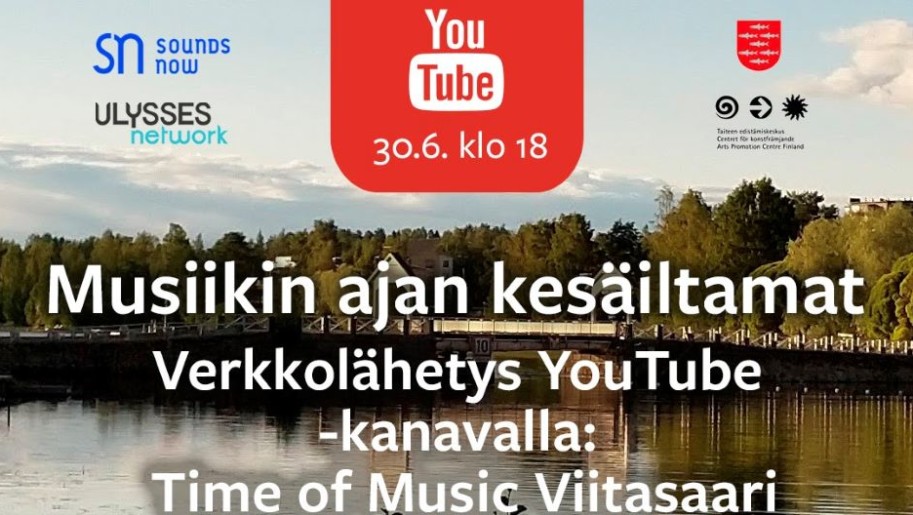 29.06.2020
Tervetuloa mukaan Musiikin ajan kesäiltamiin tiistaina 30.6. klo 18!
Lähetys tapahtuu YouTube-kanavallamme Time of Music Viitasaari.
Illan juontaa Yleisradiossa klassisen musiikin parissa vuosikymmenien uran tehnyt Heikki Valsta. Mukana keskustelemassa ovat festivaalin nykyinen taiteellinen johtaja Johan Tallgren ja alkuvuosien toiminnanjohtaja Markku Möttönen sekä muita vieraita. Keskustelemme mm. festivaalin EU-hankkeista: juuri jatkoa saaneen Ulysses-hankkeen saavutuksista tähän asti ja uudesta Sounds Now -hankkeesta, jonka oli alun perin määrä alkaa Musiikin ajan osalta tänä kesänä. Haluamme myös kertoa, miten festivaali juhlii 40-vuotisjuhliaan kesällä 2022.
Illan musiikista vastaavat Tuuli Lindeberg, sopraano ja Petri Kumela, kitara.
Liity mukaan verkkolähetykseen YouTube-kanavallemme Time of Music Viitasaari tai katso lähetys kanavalta jälkikäteen!