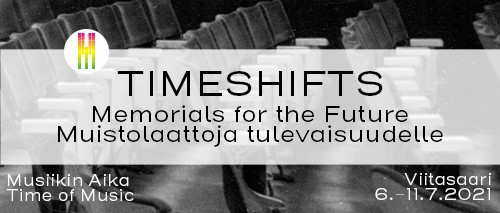 18.06.2021
Musiikin ajan liput tulevat myyntiin perjantaina 18.6.2021 klo 12.00
Nyt on syytä ostaa lippu etukäteen! Osaan Musiikin aika -festivaalin konserteista on myynnissä alle 20 lippua. Memorial of Rebellion -installaation 20-minuuttisiin esityksiin otetaan vain 2 henkilöä kerrallaan. Lipunmyynti aukeaa tänään perjantaina 18.6. klo 12.00 Lippupisteen verkkokaupassa.
Osta lippu konsertteihin: KONSERTIT
Osta lippu installaation esityksiin: Memorial of Rebellion
Musiikin aika on pitkän hiljaiselon jälkeen Keski-Suomen ensimmäisiä festivaaleja, joka järjestetään live-konsertein. Koronaturvallisuuden takaamiseksi lippujen määrää konserteissa on rajattu, pienimmillään myytävien lippujen määrä on alle 20. Siksi tänä kesänä lippu kannattaakin ehdottomasti ostaa etukäteen!
Festivaalin lipunmyynti aukeaa Lippupisteen verkkokaupassa perjantaina 18.6. klo 12. Suomalaiset artistit, kotimaiset kantaesitykset ja Erik Bergmanin tuotanto ovat esillä festivaalin säveltäjävieraan Brigitta Muntendorfin teosten ohella festivaalin intiimeissä kamarikonserteissa. Katso koko festivaaliohjelma tästä.
Festivaalilla noudatetaan tarkoin viranomaisten ajankohtaisia suosituksia ja ohjeita koronaturvallisuudesta. Konserttien paikat ja lipunmyynti on järjestetty siten, että muihin on mahdollista pitää riittävä etäisyys. Yleisöä pyydetään myös huolehtimaan käsihygieniasta ja käyttämään maskia sisätiloissa. Konserttiin saapumista pyydetään välttämään flunssaoireisena tai karanteeniaikana. Peruutetun lipun hinta palautetaan asiakkaalle.
Tällä hetkellä Viitasaarella ja Keski-Suomessa ollaan epidemian perustasolla. Tilannetta seurataan koko ajan mm. THL:n ja Keski-Suomen sairaanhoitopiirin verkkosivuilla.
Musiikin aika järjestetään 6.-11.7.2021.
www.timeofmusic.org