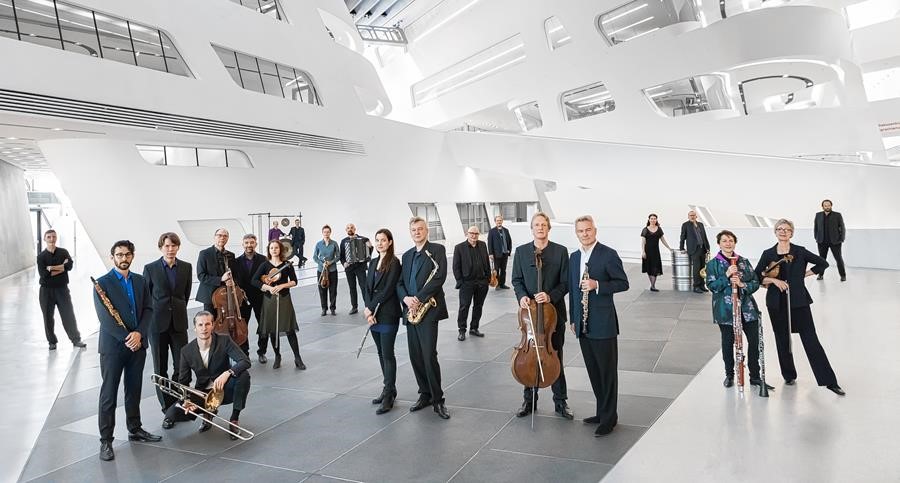 17.02.2023
Klangforum Wien saapuu Musica novaan
Helsingin juhlaviikot, yksi Musica nova Helsingin pääjärjestäjistä, tuo tänä vuonna nykymusiikkifestivaalille Klangforum Wienin. Keski-Euroopan arvostetuimpiin nykymusiikkiyhtyeisiin lukeutuva orkesteri esiintyy Suomessa ensimmäistä kertaa koko vahvuudessaan.
Konsertissa kuullaan neljä teosta, jotka kytkeytyvät festivaalin teemaan eri tavoin:
Clara Iannottan a stir among the stars, a making way -teoksen inspiraationa on ollut hämähäkin kuoren luominen ja sitä kautta menneisyyden ja nykyhetken suhde.
Sara Glojnaricin Pure bliss soi nimensä mukaisesti autuutta ja puhdasta pitkittynyttä onnea.
Olga Neuwirthilta kuullaan konsertissa kaksi teosta. Magic Flu-idity for solo flute and typewriter hyödyntää perinteisten soitinten lisäksi kirjoituskonetta. Palkitun Neuwirthin Vampyrotheonessa kuullaan säveltäjälle ominaiseen tapaan totutusta poikkeavaa soitinten käyttöä.
Klangforum Wienin konsertti avaa Musica nova Helsingin Taideyliopiston R-Talossa keskiviikkona 1.3. kello 19. Illan kapellimestari on Elena Schwarz. 
Musica nova Helsinki järjestetään 1.–12.3. Helsingin ja Espoon tapahtumapaikoilla. Uuden musiikin festivaalin ohjelmaan kuuluu laaja kattaus konsertteja, klubeja, esityksiä, installaatioita ja puheohjelmaa. Katso koko ohjelma festivaalin sivuilta!
Festivaalin sivuille