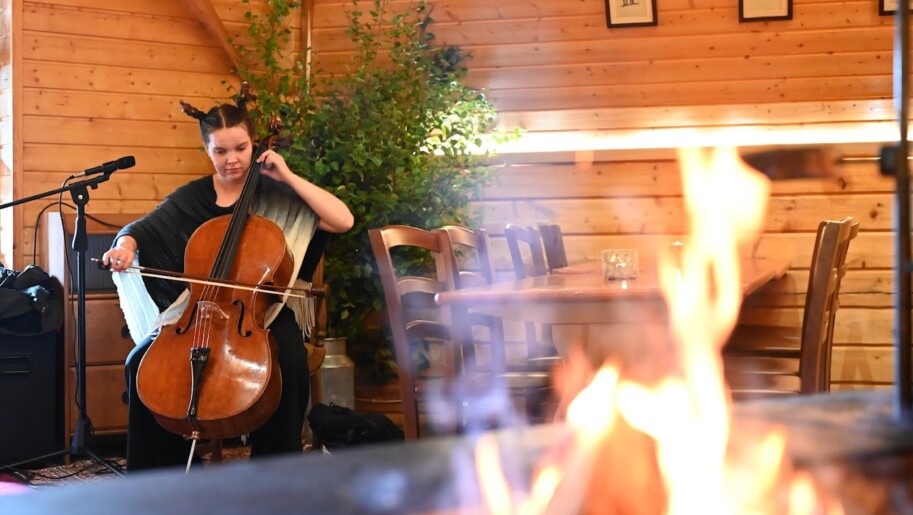 Sounds of Luosto, Sodankylä
1 August 2024 – 4 August 2024 | Sodankylä
A wonderful classical music event held amidst the mountain scenery of Lapland in Luosto, Pyhä and Sodankylä. Concerts held on the slopes of Ukko-Luosto, in the old log church at Sodankylä, and at other intriguing new venues will provide a diverse range of chamber, solo and orchestral music classics, new music, works based on folk music, and a popular cabaret gig. Our theme in 2024 is Echoes of History.
Classical Music
|
Contemporary music
|
Special programme for children
|
Chamber music
|
Free admission events
|
Disabled access
|
Photo gallery
Luosto sounds in the Lappish Landscape once more!
The Sounds of Luosto is a classical music festival which will be organized 27-30.7.2023 on Luosto, Pyhä, and in Sodankylä. The theme of the 2023 festival is from earth to sky.
The four-day festival consists of 10 performances. Before the festival proper begins, Luosto's artists will spread out around the region on Wednesday 26.7 to bring music to locals and tourists alike.
The program includes chamber and orchestral music, solo performances, familiar classics, contemporary music, and rarer gems. Familiar works include Franz Schubert's Cello Quintet and Johannes Brahms's String Sextet no. 2. Programs also feature significant amounts of newer music, such as George Crumb's modern classic Black Angels.
The opening concert on 27.7 will include the Piano Quartet of friend-of-Lapland, composer Helvi Leiviskä. The evening concert in Sodankylä later that night will focus on the heavens above, bringing to light the sky aspect of the theme.
As is tradition, a concert will be held in the 330-year-old Old Church of Sodanyklä, which will be the site of a musical journey through time on 28.7 titled On the Riverbank.
This year's new curiosity is a performance on the outdoor stage in Aittakuru which combines poetry and song. The concert consists of well loved Finnish poems and songs, performed by actress Elja Ahvo, tenor Juho Punkkeri, and pianist Tuula Hällström.
Friday's evening concert will examine a darker world, with works by Per Nørgård, Kaija Saariaho, and George Crumb, interspersed by Johann Sebastian Bach's hopeful Flute Partita.
The main concert of the festival is a performance on 29.7 on the outdoor stage at Ukko-Luosto by the internationally praised Ostrobothnian Chamber Orchestra, led by artistic director Malin Broman. Cellist Tomas Djupsjöbacka will perform Jaakko Kuusisto's fascinating cello concerto, which was one of the beloved composer and conductor's final works.
Saturday evening will continue with a true Lappish experience, a visit to the Kota of a local Reindeer Farm, which will present visitors with music, stories, and local treats.
The same evening also features a concert titled The Half Light, which will focus on the earth theme of the festival. In the middle of the Lampivaara Amethyst mine, audiences will hear works for small ensembles, with soprano Olivia Moss and other festival artists.
The evening ends with a now-traditional saloon concert, in which festival artists gather together in the Punakettu Restaurant to perform lighter fare, prepared throughout the week.
The finale concert will be heard on 30.7 in downtown Sodankylä. On Wings of Wind will carry audiences away from this years festival with the closing notes of Brahms' immortal second sextet in their ears.
In addition to the internationally known chamber orchestra, the festival features many interesting names of the younger generation, and internationally well regarded rising stars from Italy, Finland, France, and Sweden. Strings, flute, and piano are joined this year by harp, guitar, and voice. The 2023 festival will also feature live-electronics for the first time.
Tickets are on sale via Ticketmaster. Tickets can also be purchased during the festival at the door and in the festival office. It is also possible to use cultural benefits.
Learn more: www.luostosoi.fi/en and www.facebook.com/luostosoi