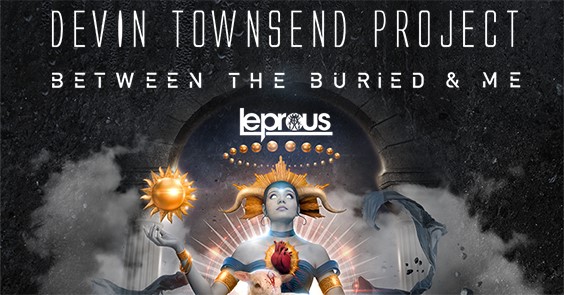 06.07.2016
Devin Townsend Project Suomeen kahdelle keikalle osana TuskaLive-konserttisarjaa
Suomessa suurta suosiota nauttiva, Kanadan multi-instrumentalisti-ihme Devin Townsend palaa Projecteineen Suomeen ensi vuoden alkupuolella. Devin Townsend Project esiintyy 28. helmikuuta Helsingin Circuksessa ja seuraavana päivänä Seinäjoen Rytmikorjaamolla.
Devin Townsend Project on viime ajat työskennellyt kiivaasti uuden albumin kimpussa. Työn hedelmät julkaistaan syyskuussa, kun "Transcendence"-niminen albumi näkee päivän valon.
Kiertuepaketti tarjoilee todellista kimuranttia nannaa: keikoilla nähtävät muut yhtyeet ovat amerikkalainen, monitasoisesti tykittelevä Between The Buried And Me sekä Norjan progehelmi Leprous.
Keikat ovat osa TuskaLive-konserttisarjaa.
DEVIN TOWNSEND PROJECT
Special Guest: BETWEEN THE BURIED AND ME
Support: LEPROUS
Ti 28.02. The Circus, Helsinki
Ovet 18:00
Ikäraja: K-18
Lipunhinta alk. 47,50 €
Ennakot: Ticketmaster
Ke 01.03. Rytmikorjaamo, Seinäjoki
Ovet 18:00
Ikäraja: K-18
Lipunhinta alk. 46,50 €
Ennakot: Tiketti ja Rytmikorjaamo
Lipunmyynti alkaa pe 08.07.2016 klo 12:00
Yhteistyössä: Radio Rock, TuskaLive, Selmu, Grey Beard Concerts and Management, E.G.O. ja Northern Music Co.
www.devintownsend.com
www.betweentheburiedandme.com/
www.leprous.net
www.tuska-festival.fi/tuskalive