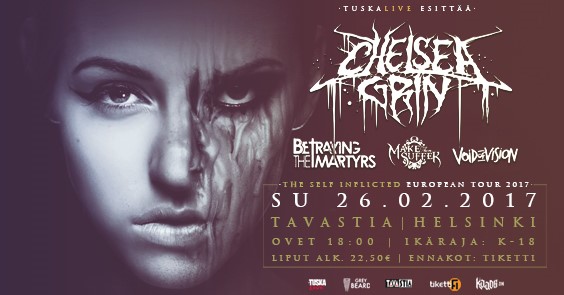 19.10.2016
Tuska Open Air Metal Festival: Chelsea Grin ja kumppanit Tavastialle helmikuussa
Amerikkalainen deathcore-moottori Chelsea Grin saapuu Tavastialle helmikuun 26. päivä. Jenkkitykittelijöitä tukee kova kattaus hengenheimolaisia: ranskalainen Betraying The Martyrs sekä australialaiset Make Them Suffer ja Void Of Vision.
Chelsea Grin perustettiin vuonna 2007 Salt Lake Cityssa ja bändin oman niminen debyytti-EP julkaistiin seuraavana vuonna. Sittemmin Chelsea Grin on noussut yhdeksi deathcoren suurista nimistä ja yhtye saapuu Suomeen uuden ylistetyn "Self Inflicted"-albumin tiimoilta.
Keikka on osa TuskaLive-konserttisarjaa. Yhteistyössä Kaaoszine.
CHELSEA GRIN
BETRAYING THE MARTYRS
MAKE THEM SUFFER
VOID OF VISION
Su 26.02.2017, Tavastia, Helsinki
Ovet 18:00 | Ikäraja: K-18
Liput alkaen 22,50 € | Ennakot Tiketti
Liput myynnissä nyt.